ARTIST STATEMENT

My work revolves around family and sociology. It captures the human condition – telling emotional and intellectual stories through two-dimensional photography. What begins in the camera does not stay the way it was captured. I go on to print layered montages and fragments applying processes like cyanotype, photogravure, and 3D reductive printmaking to augment and express their conceptual intent.
Weaving stories across generations, genres, continents, and mediums, I like to think of photography as a starting point in my art making process. With the addition of hand-restored and lavishly embellished vintage frames, I endeavor to find the deeper meaning in humanity, life, and traumatic situations galvanizing through my art.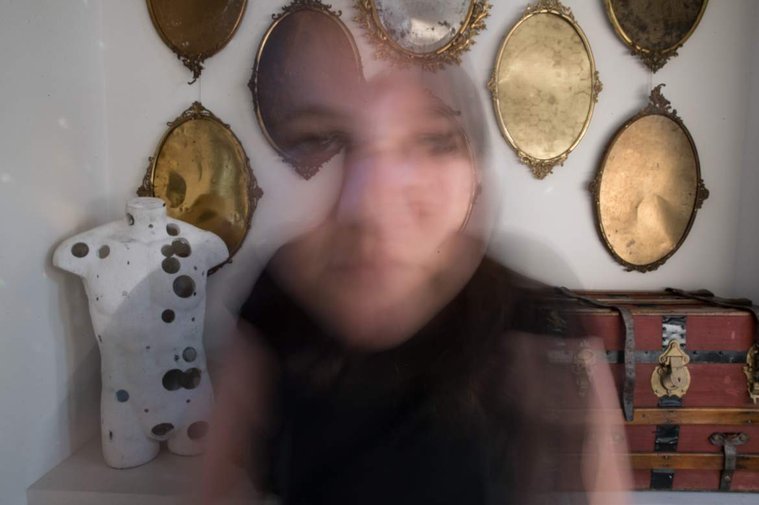 BIOGRAPHY
Cathy Immordino is a Los Angeles-based photographer, whose layered images form composites of personal experience and public spaces. Drawing on techniques and methods from fine art and photojournalism, Immordino's optical layering serves as an evocative visual allegory for the complex narratives of life and memory. Immordino began her photography career after years of being a film actress, a set of experiences whose highs and lows she documented, along with architectural and urban landscape photographs of Hollywood at night. In subsequent projects and series, including a major endeavor based on her own ancestry and the history of immigration in her immediate family, she has continued to refine and evolve this fundamental structure. Layering her own stories and observations against backdrops of iconic architecture, landscapes, and public spaces where they unfolded. In this way she collapses both time and space in a surreal but familiar language composed of art history, biographical reportage, and photographic technology. Immordino has exhibited her work in galleries and institutions across the United States, co-founded the Shed Collective, and is associated with MOPLA, the LA Center for Photography, the Los Angeles Art Association, Center Santa Fe, and the Society of Photographic Educators.
Affliliations
Los Angeles Center of Photography
Los Angeles Art Association


The Makery on Los Angeles Street
Society of Photographic Educators